volkerc
Mandalorian Maniac™




5983 Posts

Posted - 11/08/2020 : 3:02:33 PM




---
Am 5.11. nahmen wir an einem Gruppeninterview
mit Hasbro und 4 anderen Seiten teil. Insgesamt gab es
4 Sessions mit je 5 Seiten.

Die anderen Teilnehmer waren:
Jedi News/ James B.
Endor Express/ David Y.
Planete Star Wars/ Sebastien G.
Star Wars Underworld/ Dominic J.

Hier unsere Fragen:

1.The Black series Deluxe ROTJ Boba Fett and the Vintage ROTJ Boba Fett were shown with the wrong helmet. Will this be corrected?

Antwort (Chris Reiff): Ja. Manchmal uebersieht Dinge, aber dies wird korrigiert.
Yes, this will be corrected. Sometimes they don't catch stuff but
here they did.

2. Haslab funding has been reached, congrats. During the Pulsecon it was unclear how "europeans" would be able to order theirs, just shortly after the Haslab presentation Zavii UK went online offering the Razor Crest. How did we end up with Zavii or a supplier in the U.K.? After Brexit, which is when the Crest will ship mainland europeans will have to pay custom/import fees, same as if we got ours through the U.S. with a worse exchange rate.

Antwort (Patrick Schneider): They are happy how this is going and they think they made progress compared to the Barge. They will gather information on this and see what was good and was not so good to make it even better in the future. The Barge was not that wideley available as the Razor Crest.
Man ist gluecklich wie es mit Zavii laeuft, die Barge war nicht so
erreichbar fuer Europa wie es die Razor Crest nun ist. Man sammelt
aber Infos und ueberprueft.

3.Toy Fair New York 2021 has been postponed.
https://toyfairny.com/PressRoom2/News/2020-News/presidents-letter-toy-fair-dallas-new-york-postponed.aspx What are your plans regarding toy fair and going forward during these times?

Antwort (Patrick Schneider): Yeah, it's a bummer, they would prefer and like the cons. But going forward for now they will use
what is possible and keep time periods to connect short.

Man bevorzugt auch Cons und Live Events, aber nutzt nun erstmal
was an Technik moeglich ist und moechte Zeitabstaende kurz halten
um Neuigkeiten zu teilen.


4.You mentioned during pulsecon that you are planning to release the other characters from the Mandalorian to support the Razor Crest release in 2021. With 2021 being the 5th Anniversary of Rogue One, will we see some more love for this movie in 2021? Any comments?

Antwort (Patrick Schneider): Laughs out loud, thinking it is
about Merrick and his X-Wing. It is to some extend, but the question is aimed at more of Rogue One in general. So there will
be a small amount, mini as he said released.
Hat ihn amuesiert weil er meinte es geht mir um Merrick aber es geht halt um mehr von Rogue One insgesamt. Wir bekommen eine
winzige Anzahl von Produkten,...

5.It was good to see Mark Boudreaux interviewed at Pulsecon. Even though he is now officially retired, any chance if we ever get any other Millennium Falcons to keep up his legacy and keep him involved in any possible future releases?

Antwort (Chris Reiff): If they could bring him in, Chris would love to do it. Mark is part of the family but there is nothing
right now on the docket. They all are great guys and love Mark,
so do we, the fans.
Falls man Mark einbringen koennte wuerde es Chris tun, aber da ist
nichts geplant oder vorgesehen.
---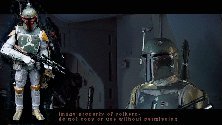 "This Bounty Hunter is my kind of scum."
Trooper31
Master




Germany
2424 Posts

Posted - 11/09/2020 : 07:20:54 AM



---
Schade mit HasLab, dass Hasbro den Brexit nicht versteht. Hasbro braucht einen EU-HasLab Partner.

Schade auch wegen RO. Mini-Dingsdabums bedeutet vielleicht eine Figur.

Trotzdem, danke Volker für die Infos.
---
Dear Hasbro...........